MESH EXPERIENCE JUDGES AND PRESENTS AT ADVERTISING WEEK NEW YORK 2023
Monday October 16th, Dana DiGregorio of MESH Experience joined Advertising Week New York on stage as a judge and presenter of the prestigious Future is Female awards, presented by Warner Bros. Discovery.
The handpicked shortlist of candidates had been nominated by colleagues, peers, and friends and were carefully reviewed by the distinguished panel of judges consisting of past winners, industry experts, and leaders. The selection process was incredibly difficult, but was based on a blend of proven accomplishments, demonstrated capability to drive organizational transformation, dedication to making a positive impact externally, ability to mentor others and professional endorsements. From Dana at MESH:
"As a shareholder in a female founded and run business, the pure backbone of this award is near and dear to my heart. I felt honored and humbled to be judging the 2023 awards, and ecstatic to present the final winners of the night. Ruth Mortimer and Louise DiIulio are the incredible co-chairs of the event and awards, and it was a privilege to stand beside them on this night, acknowledging the hard work and profound impact our winners have made not only on business outcomes, but also on society and community."
The team at Advertising Week New York were thrilled to include Dana in this year's awards program and Louise DiIulio followed up recently to add:
"Ruth and I were thrilled to welcome Dana into the Future Is Female Community. She is a brilliant, accomplished, kind, and dynamic leader and we can't wait to do more together. It is thanks to women like Dana that the Future Is Female Community continues to grow and thrive."
You can check out the incredible 10 winners from that evening HERE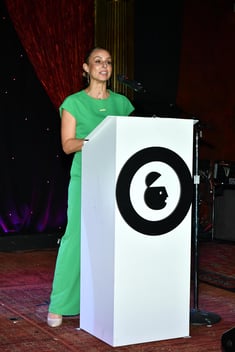 About MESH Experience
MESH Experience is a data, analytics, and insight consultancy working with Fortune 500 companies like Delta Air Lines and LG Electronics. The company focuses on measuring experiences to help forward-thinking organizations to make better marcoms, CX, and path to purchase investment decisions through understanding the whole customer experience. MESH Experience's unique Real-time Experience Tracking (RET) aims to help clients see the world through the customers' eyes. The company collects and analyses data in real-time across the full spectrum of what people experience about a brand - all paid, owned, and earned touchpoints – allowing brands and campaigns to be set in their proper context. More information on the company's notable achievements, case studies, key leadership, and history can be found at www.meshexperience.com.
Twitter: @MESHexperience
Facebook: www.facebook.com/MESHExperience
LinkedIn: www.linkedin.com/company/mesh-experience
Dana DiGregorio LinkedIn: https://www.linkedin.com/in/dana-digregorio-654b8bb/
Fiona Blades LinkedIn: https://www.linkedin.com/in/fionablades/
---
Author: MESH Experience