No other sector needs to rebuild trust, consideration and advocacy in the way retail banking does. In addition, the continuing digital revolution is increasing media fragmentation, making it more challenging for media planners to get the best bang for their buck.
Vance Packard published The Hidden Persuaders in 1957 and even today, as marketers we are still in the business of persuading our customers and prospects that our brand is worthy of their investment.
At MESH Experience, we believe marketers need to look through the eyes of the customer to see how they encounter brands in the real world.
…which allows us to move from a disparate way of viewing the world to a customer centric way.
Today, there is a new way to persuade customers and prospects towards your brand – we call it Experience Driven Marketing.
It's important to measure what people actually pick up, not simply what, as marketers, we push out….
Our ground-breaking methodology captures over 100 touchpoints in the moment and shows the impact of paid, owned and earned media touchpoints on the key brand funnel metrics that marketers put most store by when gauging how persuasive their brand is.
Over the course of two years, we have recorded over 40,000 retail banking experiences in our database. Based on this data - and using a new framework to help marketers understand which media touchpoints can be used to maintain or improve key metrics such as consideration, trust or advocacy - we can pinpoint which media to leverage for customers and non-customers to maintain or improve these metrics.
We've used this approach to share some useful rules to help you unlock your own hidden drivers of persuasion.
The Hidden Drivers of Persuasion: Five Rules
Rule One: Don't expect advertising to do all the hard work. Use all touchpoints.
Rule Two: Advocacy and trust are harder to shift. Understand what to leverage.
Rule Three: Neutral is the new negative. Neutral experiences erode your marketing budget – create positive ones.
Rule Four: In a digital era, don't forget to use good old direct mail to acquire customers.
Rule Five: Online banking is the touchpoint for customers.
---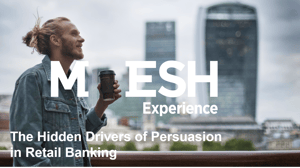 Download our Drivers of Persuasion Presentation for FREE to learn more!
---
Author: Fiona Blades -- President and Chief Experience Officer