We are overloaded with data – it's coming from our call centers, our websites, our retail partners, our media agencies. Yet in spite of being awash with data, we have a data black hole. We've got GRPs, click-throughs, Likes, Share of Voice to help us to measure marketing activities but this leaves us with a dizzying array of metrics where we are comparing apples and pears.
We don't have a way of connecting the different data sources easily, we look at everything in silos. The marketing team looks at ad recall and media spend. The trade marketing team works with retail partners. The customer experience team pays attention to the call center and CRM metrics. Who is looking at everything from the perspective of the experiences that our customer is having? And isn't this fundamental?
More and more marketers are becoming attuned to the power of experiences. Whether this is about creating a seamless customer experience, the power of experiential touchpoints or linking with people's passions. We believe you need to understand every experience or encounter with your brand, whether this is a momentous experience in being offered your first mortgage or a fleeting glimpse of a poster.
And in almost every sector, there is a real focus on getting back to the customer. We need understanding from a human-centred perspective. We need to understand how sectors and brands fit in with the rest of someone's life, with their passions, when they are busy, when they have time to listen to us, what will help them achieve their goals.
We need a new marketing framework, new data and metrics to help us.
We need a human-centred marketing approach that puts the customer center stage. We call this Experience Driven Marketing. It's based on learnings from capturing experiences over the last 12 years and our proprietary Experience Model and Metrics.
Why does Experience Driven Marketing grow brands? Because great experiences create real value for people, build advocacy, which leads to acquisition, as well as retention and increase in share of wallet.
We've put all this together and created an Experience Driven Marketing manifesto – there are six short videos for each key point in our manifesto.
Take responsibility for every brand touchpoint – even those you don't control.
Measure Share of Experience, not Share of Voice.
Emotion matters. Insist on Engaged Reach.
If Content is King, Context is Queen. Use it.
Experience is a journey. The destination is not purchase, but customers meeting their goals.
If our customers buy experiences, we need to organize around them. Not products, functions or channels.
---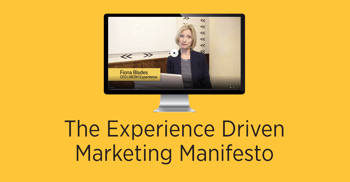 Click here to claim your FREE Experience Driven Marketing Manifesto videos!
---
Author: Fiona Blades - President and Chief Experience Officer