Marketers often find that certain touchpoints can get left off media and channel plans due to a lack of understanding about how they work. For over a decade we have been capturing experiences across markets, sectors and products, so we tend to see trends emerge in terms of the impact and role of different touchpoints. This led to us developing our Experience Driven Marketing model and metrics to help clients utilize and optimize every touchpoint.
One repeated observation is that cinema is often a very impactful medium (not just creating positive experiences but persuasive ones), but its reach is typically very low. We questioned ourselves, is this an underutilized medium? And what specifically about it creates such engaging experiences. Ultimately, how can it be harnessed?
MESH Experience partnered with SAWA (the global Cinema Advertising Association) to do a ground-breaking global study. The study has captured and analyzed over 4,500 brand experiences from more than 1200 people across 4 countries using MESH's proprietary Real-time Experience Tracking approach. We focused on capturing as many cinema experiences as possible so we could evaluate it robustly but also in the context of all other touchpoint experiences.
The findings were very revealing and told a very exciting and action-packed story of Stan Lee proportions. We discovered that cinema really does have some super powers, which are often underused by marketers.
Firstly, though our wealth of experiences captured in real-time we saw that the cinema environment delivers the greatest proportion of positive brand experiences vs. any other media, with 2 out of 3 experiences being positive and virtually no negative experiences.
This emotional engagement, where people spontaneously tell us their experience is positive, is leading to much deeper advertising comprehension:
Spontaneous descriptions for cinema brand experiences generated a word count that was 20% longer than those for online experiences and 12% longer than for TV.
These comments conveyed detailed product descriptions as well as depth of emotion.
The study confirms that in addition to cinema's awareness building power, brand experiences in cinema generate action. Study participants who experienced brand messages in Cinema were 43% more likely to feel inspired to find out more about the brand vs. brand experiences with other media. And the depth of a cinema brand experience makes people feel 50% more connected to others which can lead to conversation, and we see this is a key driver of brand consideration.
This gave us some compelling evidence to be strongly considering Cinema on the media plan, to work effectively alongside other traditional touchpoints. For food and drink brands, the proposition becomes even more relevant as there is a very relevant opportunity to reinforce a message whilst people are very engaged and consuming your product.
The reaction to these initial findings has been so overwhelming that a sequel study is already in the planned for 2019 to get an even deeper understanding in areas such as sequencing and wear out of touchpoints in the mix, thus getting even more insight on the best media strategy. Coming to a screen near you soon…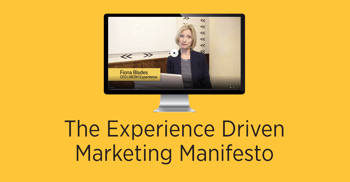 Click here to claim your FREE Experience Driven Marketing Manifesto videos!
---
Author: Marcello Garritano, Regional Director, Latin America