The key challenge marketers often face is that they may know how some of their media and channels are working but there are gaps in their knowledge. Many media and channels are completely misunderstood or there is no knowledge about the contribution they make. This is highlighted in John Wanamaker's quote below.
"Half the money I spend on advertising is wasted; the trouble is I don't know which half"
John Wanamaker (1838-1922)
In John Wanamaker's day, personal selling, print, and OOH were the main ways in which a brand could communicate with its customers. Since then, the complexity of designing and managing marketing communications has only increased due to the proliferation of technology-enabled channels. Nowadays customers have a much greater choice in how they interact with brands and the sources of information available to them, all of which influence their purchase journey (Court et al., 2009).
With a staggering amount of money spent on advertising – over $500bn in 2018 (Tan, 2018) – the question for marketing directors is surely "could I achieve a better return if I prioritize other touchpoints above advertising?"
Despite the importance of this challenge, many academic and practitioner solutions focus only on one or two touchpoints, neglecting the full range of touchpoints a consumer uses in their purchase journey. Therefore, they are unable to understand the importance of advertising relative to the other touchpoints which consumers are influenced by. This lack of research is likely due to a difficulty in obtaining a data set which covers the multitude of different touchpoints.
MESH Experience's Real-time Experience Tracking (RET) is a single-source, diary-based data collection method (Macdonald et al., 2012). Consumers report each encounter with a brand, from seeing a TV ad to receiving a recommendation from a friend to browsing in store, as they happen in real time. This method creates a holistic dataset covering a wide range of paid, owned, and earned touchpoints observed from the perspective of the consumer, alleviating any device reliance which is common for methods such as cookie tracking or TV metering. Data are collected in real-time, as the encounters occur, minimizing recall bias.
We identify the relative impact of six different touchpoints experienced throughout the purchase journey on changing a consumer's brand consideration.
In our Journal of Retailing paper (Baxendale et al., 2015) we use RET data to identify the relative impact of different touchpoints on changing a consumer's consideration of brands. Our dataset covers 24 brands from four product categories: electrical goods, technology products, mobile phone handsets, and soft-drinks. For simplicity we compare the impact of six broad touchpoints; brand advertising, retailer advertising, in-store communications, receiving offline word-of-mouth, reviews and editorials, and peer observation.
Summary of results
We find that all touchpoints have an impact on shaping brand consideration. However, it is in-store communications, such as special displays, posters, shelf barkers, or simply seeing the product as part of the assortment, which has the largest impact on brand consideration. This is followed by peer observation learning and brand advertising, then retailer advertising and word-of-mouth. Notably, the number of word-of-mouth conversations has no impact on brand consideration – only whether the conversations are positive or negative. Finally, reviews and editorials have the lowest impact. As with word-of-mouth, the impact of these are determined by their positivity rather than their frequency.
Figure 1: The relative impact of touchpoints on changing brand consideration.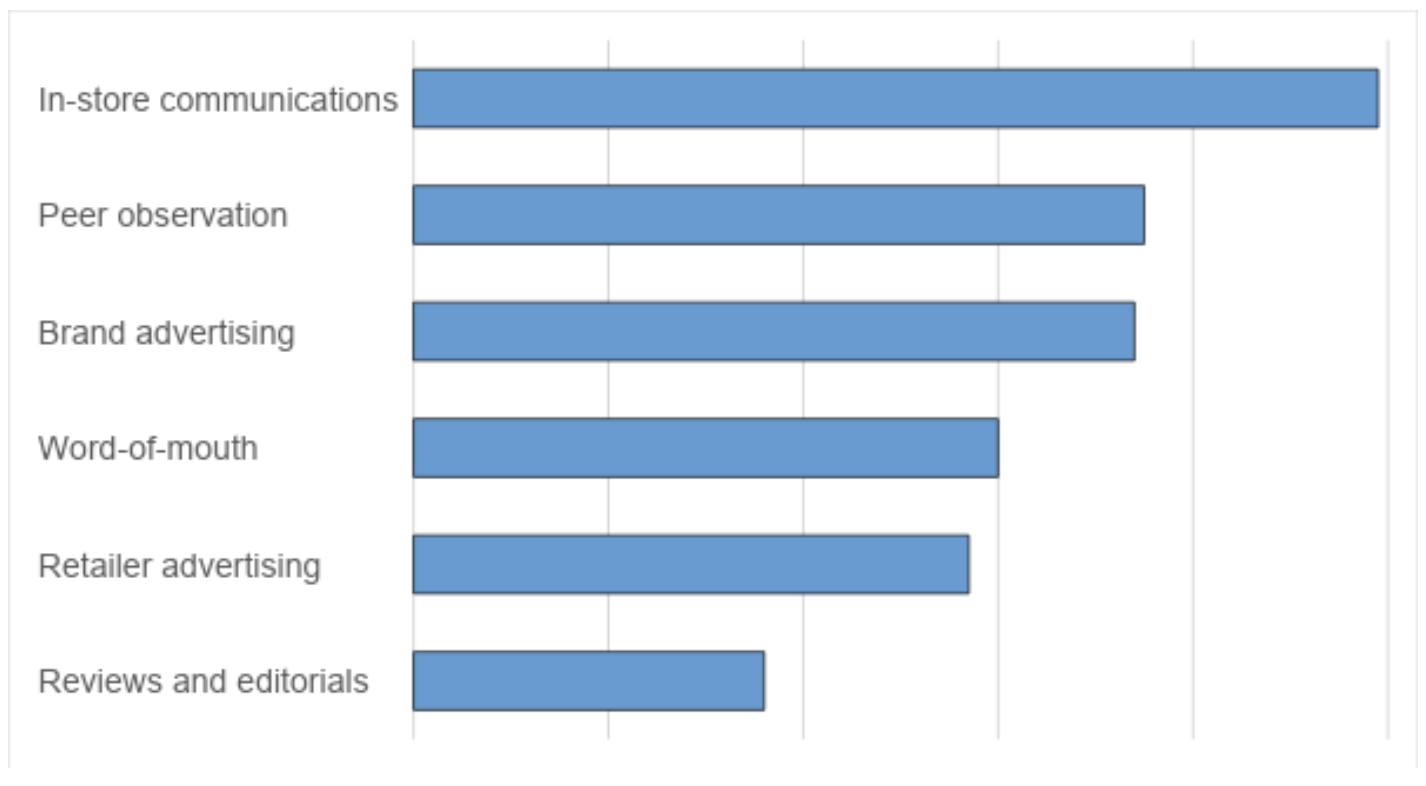 Implications
As consumers are influenced by such a wide range of touchpoints, it is important for marketing directors to adopt an Experience Driven Marketing approach – focus on all the experiences which a consumer has with your brand from their perspective. Consumers traverse a wide range of touchpoints to search, learn about, purchase, and use products so it's key that brands begin to monitor the complete Share of Experience. As de Swaan Arons and his colleagues (2014) note in their Harvard Business Review article, "we believe that the most important marketing metric will soon change from 'share of wallet' or 'share of voice' to 'share of experience'."
Brands need to win in-store. Whilst there is the ongoing claim that online shopping is killing the high-street, we simultaneously see Amazon opening offline stores. Brick-and-mortar stores are still important to brand strategy. However, their role is changing. Consumers are increasingly using brick-and-mortar as a search channel which may influence online purchase (Brynjolfsson et al, 2013). The ability to physically compare multiple products simultaneously means that this is an extremely important battleground for brands, especially larger ticket items.
Product branding needs to be clear. Peer observation is as impactful as advertising and more impactful than word-of-mouth recommendations. Whilst many brands are engaging in WOM marketing (attempting to increase WOM through incentives, e.g., recommend a friend), they should also ensure that the branding is clear and distinctive so that consumers notice when a friend is using the product. Apple's early advertising focused on associating it with the characteristic white earphones, visible even when the iPod wasn't.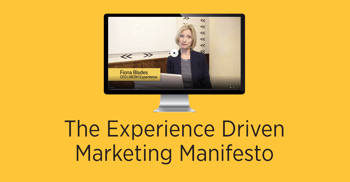 Click here to claim your FREE Experience Driven Marketing Manifesto videos!
---
Author: Shane Baxendale, Phd, Vice President – Data Science
Footnotes
References
Baxendale, S., Macdonald, E.K. and Wilson, H.N. (2015) "The impact of different touchpoints on brand consideration", Journal of Retailing, 90(2), pp.235-253.
Brynjolfsson, E., Dick, A.A. and Rahman, M.S. (2013) "Competing in the age of omni-channel retailing", MIT Sloan Management Review, 54(4), pp.23-29.
Court, D., Elzinga, D., Mulder, S. and Vetvik, O.J. (2009) "The customer decision journey", McKinsey Quarterly, 3, pp.96-107.
de Swaan Arons, M., van den Driest, F. and Weed, K. (2014) "The ultimate marketing machine", Harvard Business Review, 92(7/8), pp.54-63.
Macdonald, E.K., Wilson, H.N. and Konuş, U. (2012) "Better customer insight – in real time", Harvard Business Review, 90(9), pp.102-109.
Tan, E. (2018) Global adspend growth to accelerate to 4.7% in 'stellar' 2018, Campaign.